The Grapes of wrath by John Ford
Premiere of the restored 4k version
Jane Fonda
To pay tribute to her father
On Sunday, October 21st at 3pm, Jane Fonda, the prix Lumière of this 10th edition, will bring the festival to a close. The actress will pay tribute to her father, the legendary Henry Fonda, and introduce John Ford's masterpiece The Grapes of Wrath, adapted from John Steinbeck's classic novel, in a new restored 4k version.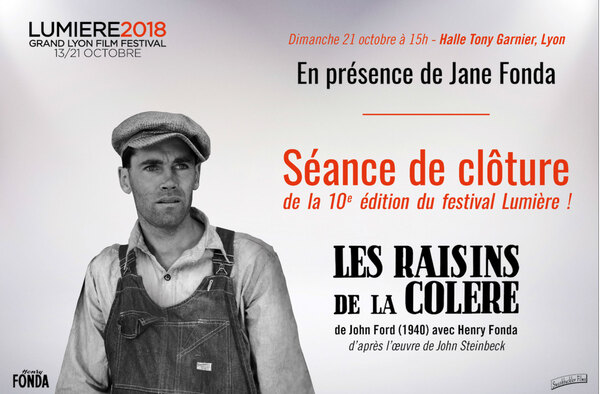 Oklahoma in the early 1930s. Tom Joad returns to the family farm after four years in jail. Faced with the economic consequences of the Great Depression, the Joad clan, like many other families, decides to head west to California, the promised land... As they mourn the past, they are filled, too, with the hope of a new life free from poverty.
Adapted from John Steinbeck's monumental novel, John Ford's The Grapes of Wrath is considered one of the pillars of American cinema. Led by Henry Fonda, the legendary actor to whom Jane Fonda – Lumière Award 2018 – will pay homage to during the festival, The Grapes of Wrath won two Oscars, including Best Director, in 1941. Both the film and the novel are part of the great American mythology. Bruce Springsteen even composed a song based on the masterpiece: The Ghost of Tom Joad.
The Grapes of Wrath will be presented in a new restored 4k version. The film is distributed by Swashbuckler Films in France

Tickets can be purchased here and at Lumière festival box offices:
At the Hangar of Rue du Premier-Film (Lyon 8th) from 12pm to 6:30pm and at the Lumière Gallery (Lyon 1st) from 12pm to 6:30pm.
Prices: 18 € / 15 € accredited members