zero gravity

---
Posted on october 17th, 2018

---
Alfonso Cuarón's master class indulged the audience with his generous spirit. The Mexican filmmaker gave us the inside story on his latest film, Roma, after having introduced its two (standing-room-only) premieres in Lyon on Monday, October 15th.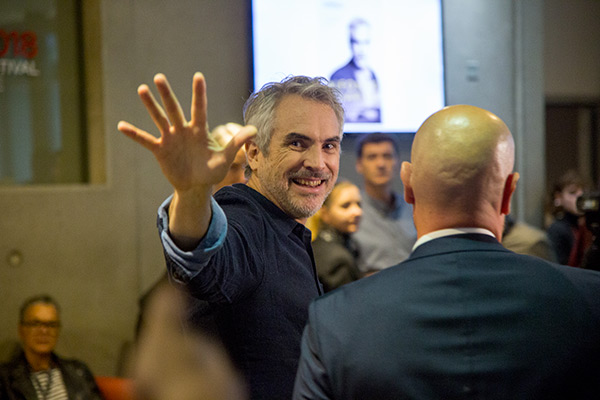 © Institut Lumière / Bastien Sungauer
Project Idea / Morelia Festival / Mexico
"Before 'Roma,' I was into very advanced anthropological research for my next film. But, when I gave him details of the project, Thierry Frémaux told me, over one (or more) glasses of Mezcal, that it was the right time for me to return to Mexico. He had sidestepped the question, and it upset me; I was angry with him for not being excited about my project. And yet, this idea grew on me - it was indeed the right time for me to return to film in Mexico. There is a certain arrogance to claim to be a citizen of the world, but we all need to go back to our roots. There was a kind of spiritual justice at that moment in my career.


Roma / The title
"Roma is a neighborhood of Mexico City, where I grew up. When someone suggested this title, I said "it's bad but it doesn't matter, we'll change it later." And we never changed it, that's it. But it's good, it's an opportunity for me to invent a tribute to Fellini or Rossellini, or to suggest that Roma is the anagram of Amor!"

Script / The chaos
"Unlike 'Y tu mamá también,' for 'Roma,' I gave nobody the script; I had long individual conversations with each actor. I explained the underlying relationships between the characters and I told different things to each person. Each morning, I gave the text of the day to some actors and I made sure to give them completely contradictory indications. It was very funny because after all, that's life!"

Netflix / The choice
"I am frustrated that French audiences won't see 'Roma' in theaters; the film was designed with a visual and sound ambition for the big screen. But when it comes to choosing a distributor, Netflix has become a major player, thanks to its desire to bring this 'film d'auteur' to the four corners of the world."

Charlotte Pavard