---
PostED ON OCTOBER 16, 2018

---
He doesn't believe "in God, but in Al Pacino." Expressive and hilarious, Spanish actor Javier Bardem enumerated memories from his filming experiences.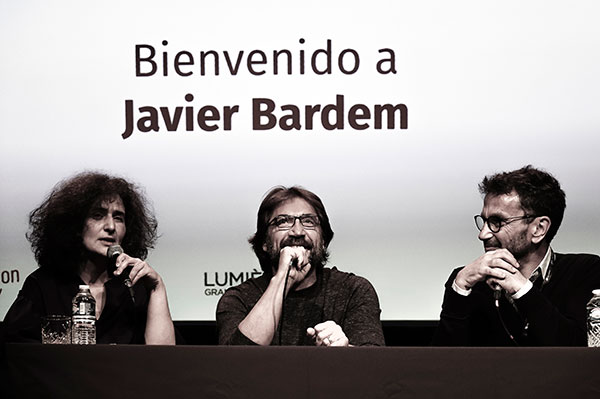 "Jamón, jamón" by Bigas Luna (1992)

When we made "Jamón, jamón," Penelope (Cruz) was 16, and Jordi Mollà and I were 21. We were so fortunate to be directed by Bigas Luna, who treated us with respect, tenderness and generosity. And lots of humor, presenting everything as futile. This attitude had the same effect on Penelope, Jordi and me; it made us love the profession. At the age we were, if we had been treated differently by another director, we certainly would not be actors today.
"Before Night Falls" by Julian Schnabel (2000)

"I always say that my career has had two turning points: the first was with Bigas Luna, and the second was with Julian Schnabel, because he helped me find my voice in English. Schnabel had decided to give me the leading role in his film- 20 days before it started shooting. I had 20 days to learn English, lose 15 kilos, take on a Cuban accent… it was pure craziness, but it left an extraordinary memory."

"Goya's Ghosts" by Milos Forman (2005)
"The film was not a success, but I was able to dine every night with Mr. Milos Forman. Just saying his name lifts up my soul. He is the most extraordinary, nicest, most unique and most intelligent man I have ever met. The first day of shooting with Nathalie Portman, I play Brother Lorenzo, praying, and I'm supposed to rape Nathalie Portman. Milos Forman yells, "Action…. Cuuuuuuuuuuut! Javieeeeeeer! You are ruining my film!... No, I'm kidding, it's fine."
No Country for old men des frères Coen (2007)
"The Coen brothers found my hairstyle for the film by looking at books from the 1960s, showing a man in a brothel, with prostitutes, in a town bordering Tijuana. They were dying of laughter. A hairdresser who understood what they wanted cut my hair, and when they came back, they burst out laughing again. I had this hairstyle for four months; no matter what I did, it would fall the same ugly way. The worst humiliation of my entire career was having to wear a little hairnet on my head so my hair would stay in place. We were filming in Texas, and a policeman stopped me and asked me for ID… we filmed for three days, and every day, he asked me for ID."

Vicky Cristina Barcelona by Woody Allen (2008)
"I was in London and a gentleman arrived in my hotel room with Woody Allen's script. I started reading, and he stood there staring at me, nodding. He was a gentleman of a certain age, very thin, dressed all in black. I said, 'Yes, yes, I'm going to do the movie...' And one day, when I was on set, Woody Allen looked at me and came straight over, saying, "Hiii hiii, how are you?' And I answered, 'Um, I'm working here...' He had no idea that I was in the movie! And when we shot a scene in Spanish, he would say, 'Bye-bye" and actually leave. But he is a genius and I would work with him tomorrow, if he asked me to. The #Metoo movement is very good, but justice has declared him not-guilty in two different states. Public lynching is very serious. If one day, a judge were to condemn him, I would change my mind, but so far he has been declared not-guilty."
"Biutiful" by Alejandro González Iñarritu (2010)
"Shooting was hell for me, and for him. I was not an easy actor to manage in this film. Self-suggestion is an actor's tool, working a muscle in question, but on this film, I overdid it. To the extent that at one point, I felt, like the character, that I was dying and I began to put my life in order. It was not playing a role, I was using my work as therapy. Alejandro had to keep bringing me back toward an unbiased portrayal. It was the first time he had written a story for a single actor, and we both paid the price. I was incapable of detaching myself from the perspective of the character. Carrying this emotional weight for six months of filming exhausted both of us. I'm very grateful to him for having held my hand until the end."

Rébecca Frasquet