At the crossroads of the art

---
Posted on october 17, 2018

---
Singer, poet, and savvy cinephile, Bernard Lavilliers swept the public off their feet at the Hangar du Premier-Film for an exalted and moving evening. An invitation to embark on a journey of songs, poetry and cinema. Immediate takeoff.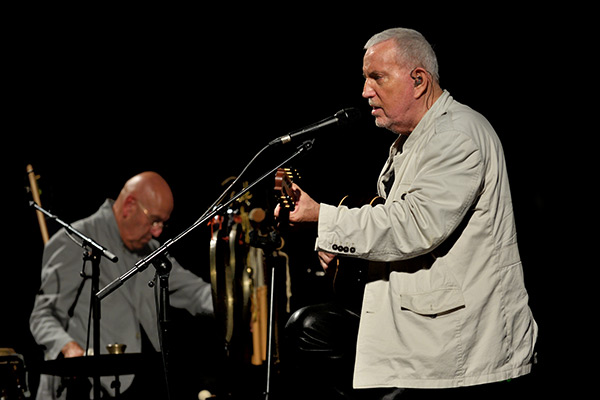 © Institut Lumière / Jacques Croizer
"I'd like to work again - to work again. Forging red steel with my golden hands." Tuesday night, the Hangar of Premier-Film was transformed into a concert hall. The audience was singing in unison, clapping their hands to the beat, to the famous song, "Les mains d'or" ("Golden Hands") by Bernard Lavilliers, a working-class anthem. "There's nothing whiny about it, it's a question of dignity," said the singer from Saint-Etienne in front of an enchanted crowd.
Among the faithful of the blue-eyed poet were Isabelle Richard and daughter Alexia: "He's an artist I have always loved. These lyrics touch me, I can relate, I'm also from a modest background."

A guest of honor of this edition, Bernard Lavilliers did not fail to live up to his reputation as a beast. Accompanied by excellent percussionist Dominique Mahut, the singer played some of his hits, including the legendary "On the Road Again." Loudly applauded for every song, the Stéphanois did not deny himself the pleasure of alternating stories, poetry readings and declarations of love for the cinema, especially Orson Welles' films: "As a child, I started with swashbucklers, then I became interested in many other genres. My biggest emotion of the cinema was seeing 'Citizen Kane.' I loved this film, its inventiveness. Whenever I see it again, I discover other details."

The singer even treated the audience to a little imitation of Marlene Dietrich, the gypsy seer in "Touch of Evil" by Master Welles. "What I like about cinema is the mystery, which is suggestive. Cinema puts your imagination to work," said the singer-songwriter. This lover of words also wanted to pay tribute to one of his favorite poets, Blaise Cendrars: "I like his compact, sanguine writing... There's total insubordination in his work. And in a few verses, he takes you elsewhere." He then recited a few verses: "When you love, you must leave..." In this venue anyway, no one wants to see the poet from Saint-Étienne leave. "Thank you very much, I will come back to the festival! We'll save the date.

Laura Lépine