An "intergalactic actress" in Lyon

---
Posted on october 20, 2018

---
Biyouna: "I'm happy Jane Fonda is receiving the Lumière Award, she is a great lady."

Algerian actress, dancer, and singer Biyouna was at the Pathé Bellecour on Thursday night to introduce Radu Mihailean's film, The Source. The filmmaker, also present, paid tribute to "this most intergalactic actress," while saluting the committed woman she has always been. Interview with a feisty woman with a devastating sense of humor.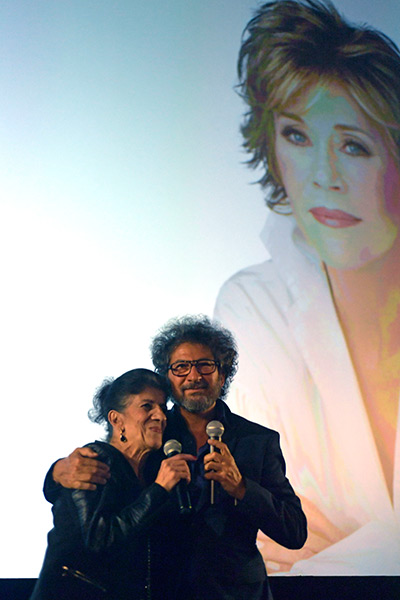 Copyright Institut Lumière / Olivier Chassignole
You are a guest of honor at this edition of the Lumière festival. What was your reaction when they extended this invitation?

"I was really happy; my agent, Sophie Barrois, had told me the news. She said: You can't miss this festival; it's such a wonderful event! It's nice to introduce films like tonight, I like being in front of people, feeling their emotions. And it's a very diverse audience: there are people of all origins in the theater, it's amazing! I'm happy Jane Fonda is receiving the Lumière Award. Many of us grew up knowing of her father, Henry, and she herself is a great lady. She has dedicated her youth to her causes."

Today at the Institut Lumière, you introduced the film, Délice Paloma, which represents your third collaboration with filmmaker Nadir Moknèche. What do you remember about making the film?

It's true, I had already made The Harem of Madame Osmane and Viva Algeria with Nadir, he's someone I really get along well with, who lets me improvise. Délice Paloma was shot in France and Algeria. It was great to see these two teams working together, learning from each other. In Algeria, when filming had wrapped and the French team was leaving, everybody cried! I also remember an Algerian driver who had prepared a real feast at his house for the entire team!"




Laura Lépine
Biyouna news

The actress is currently starring in the comedy Belleville Cop, directed by Rachid Bouchareb.
Biyouna is also starring in the TV show Remix. Slated to air on M6 this December, Remix depicts the life of an interracial blended family.


Practical information

Institut Lumière
Sat. Oct. 20th at 4:30pm, Délice Paloma by Nadir Moknèche (2007, 2h14)
In the presence of Biyouna

Lumière Bellecour
Sat. Oct. 20th at 7pm, I Still Hide to Smoke by Rayhana (2016, 1h30)
In the presence of Biyouna