The Queen of wuxia pian in Lyon
---
Posted on october 18, 2018

---
In the 1960s, she became the great master of martial arts movies, a genre previously dominated by men, performing her own stunts. Chinese actress Cheng Pei-Pei, one of the festival's guests of honor, introduced Ang Lee's Crouching Tiger, Hidden Dragon and King Hu's A Touch of Zen yesterday at Lumière.
She inspired a generation of fearless action film heroines, portrayed by Michelle Yeoh or Zhang Ziyi. Trained at the famous Shaw School, Cheng Pei-Pei started in 1965, at the age of 19, playing a male role in The Lotus Lamp, opposite superstar Linda Lin Dai. The following year, her career took off thanks to her performance as the Golden Swallow in King Hu's work, Come Drink with Me. This costumed detective story in the era of Imperial China, with fantastic and melodramatic accents, proved a great success in 1966.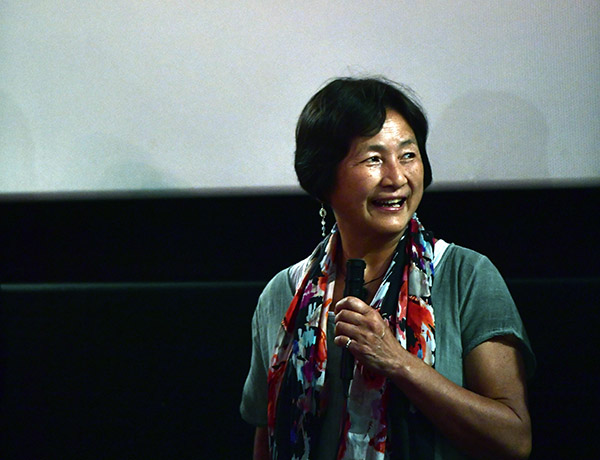 Copyright Institut Lumière / Chassignole
A dancer, Cheng delivered a performance full of grace and agility, while revolutionizing combat choreography. She then made a string of sentimental films: The Rock, Song of Orchid Island, shot in Taiwan, before signing a contract with Hong Kong studio Shaw Brothers, filming with King Hu, Chang Cheh, Lo Wei, Ho Meng-hua or Umetsugu Inoue. Along the way, she became the first female star of "wuxia pian," martial arts movies of Chinese chivalry.
In 1971, she emigrated to the United States. From the mid-1980s to the late 1990s, she was inspired by the Asian film movement and its new generation of directors. Nostalgic for the cinema of his childhood, Ang Lee paid homage to Cheng Pei-Pei by offering her the role of Jade Fox in Crouching Tiger, Hidden Dragon. In 2014, she participated in the British film by Hong Khaou, Lilting. with Ben Whishaw She will be starring in a remake of the animated movie Mulan, to be released in 2020.
Rébecca Frasquet