Before turning out the Lumière (light) 2018
---
POSTED ON OCTOBER 21, 2018

---
As the festival draws to a close, the first signs of postpartum melancholia are apparent. This Lumière festival is such a cinephile, friendly (and quite glamorous too) shot of adrenaline, that the first following days will make us suffer from withdrawal. But we are not there yet, so let's take advantage of the final hours.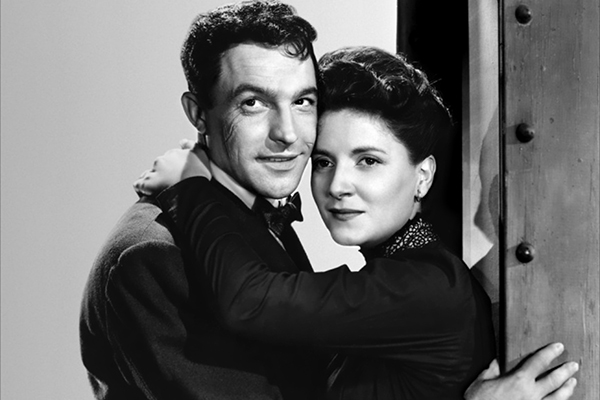 Film Black Hand
Saturday, I introduced "Three Little Words" by Richard Thorpe, an MGM-run musical, which honors the reputation of its studio: this story of friendship in the workplace is an explosion of colors, costumes, sets, tap-dancing numbers, movement, rhythm and speed. In this kind of film, nothing is serious, even when the characters go through bad patches, everything is sparkle and lightness. In the same Lumière Terreaux theater, I immediately launched into "Black Hand" by the same Thorpe, the same studio, and made the same year (1950), a film which is, however, the exact opposite of "Three Little Words." After Technicolor, black and white, after musicals, film noirs, social comedies and social dramas... depicting the brutal grip of the mafia in New York in the 1920s and the precariousness of the Italian immigrant community, "Black Hand" does not seem like an MGM movie, but rather a mix of Warner ("darkness") and Fox movie (societal aspect). Seeing "Three Little Words" and "Black Hand" back-to-back, clearly demonstrated the operation of Hollywood studios and a salaried producer-director like Richard Thorpe: without the "je suis un auteur" ego, but with the satisfaction of work well done, whatever the genre. Richard Thorpe would go about his business every day, conscientiously, professionally, meticulously, as a baker bakes his daily bread, and if "Three Little Words" or "Black Hand" are not absolute masterpieces, they are very good films which convey the best of the genre: humor, movement and fantasy for one, drama, emotion and suspense for the other. In short, Thorpe was the daily bread of Hollywood and what he produced was both tasty and perfectly baked.
Sunday is therefore the final day. I will miss the closing ceremony, as I missed the masterclass of Jane Fonda, the daily workshop by Michel Ciment, the Leone all-nighter, The Lord of the Rings all-nighter, some films by Decoin, Thorpe or Muriel Box, "The Boston Strangler" by Richard Fleisher (another great Hollywood craftsman), which Virginie Apiou and Philippe Rouyer had highly recommended to me. I also did not experience the famous nights at La Plateforme, but such is the fate of a festival-goer; we can never do everything and see everything, and even less with a program as rich and dense as Lumière's... This is also the time to take stock. As far as I'm concerned, I have discovered marvelous unknown works by Henri Decoin (5 films, including 2 masterpieces, 2 great films and one good one), rediscovered the Hollywood craftsmanship of the modest and very good Richard Thorpe, and put the name of Muriel Box on my personal cinema planisphere - to be able to make films in the 1950s, for a woman, was not a given, since the profession was 99% male. I also overcame my timidity by introducing nine screenings and a masterclass (thank you Claire Denis, who was remarkable in this exercise), I spent nights and mornings writing this log (another great pleasure), I exchanged cinephile feelings with fellow journalists, distributors, producers, with Maelle Arnaud (emeritus and talented programmer of the festival), Laurent Gerra (co-founder, savvy film buff and a regular presence at the festival), Liv Ullmann, Anne Consigny, Suzanne Clément, wonderful, friendly actresses happy to be at Lumière, and I even discovered Bernard Lavilliers' offbeat and baroque cinema passion, perhaps the only French moviegoer who remembers Robert Downey's "Greaser's Palace."
Having experienced previous ones, I can surmise what this closing ceremony will look like: we will see the sublime Jane Fonda, who will confirm our "Jane addiction," with distinguished guests still present, the 800 volunteers who did an amazing job, as did the entire team of the festival, and Thierry Frémaux, who will lead this great ballet finale with his talent. We will also see "The Grapes of Wrath," one of John Ford's masterpieces, based on John Steinbeck's novel, starring the father of the Lumière Award 2018 recipient, Henry Fonda. It was Jane who chose this film, but I don't doubt that Thierry would have chosen the same for its quality, for the "Fonda Connection", but also for a more underlying reason: Bruce Springsteen was inspired by this film and the book for his album "The Ghost of Tom Joad." In his final tirade, Fonda / Joad declares, "wherever people are hungry, wherever a kid is being beaten up by the cops, I'll be there." This is the superb finale, a political and humanist note of an edition in which Steinbeck, Ford, Fonda and the Boss are brought together, with whom we can now also associate Bertrand Tavernier and Thierry Frémaux, bosses of an event that is still young (9 years old, 10 editions) but exceptional: in all of Grand Lyon, wherever we need to light the flame of cinema, to recharge ourselves emotionally and intellectually, the Lumière festival has been, is, and will be there.
Serge Kanganski