The "Fondamental" film by Jane!

---
POSTED ON OCTOBER 20, 2018

---
A young filmmaker, a first film, barely… Jane Fonda, who had never had any inclination to direct, used to being directed by others in her movies, turned out to be scared to death at the idea of making the remake of the first film in the history of cinema, Leaving the Lumière Factory. "I had nightmares about it!" she confessed, amused, at the Press conference. This afternoon, Jane Fonda enthusiastically participated in this annual tradition of the festival. Her presence continued to put everyone in a great mood. Action!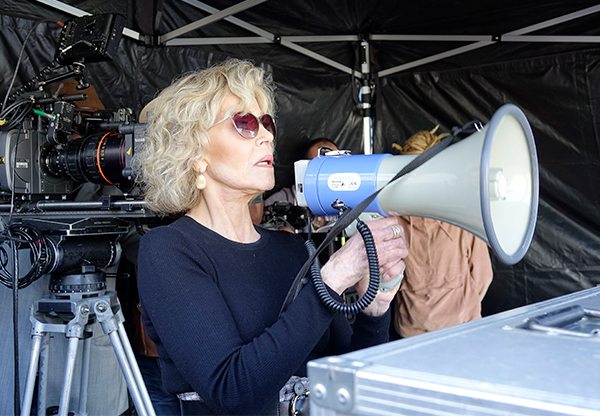 Copyright Institut Lumière / Sandrine Thesillat - Jean-Luc Mège photography
Her scenario is clear: on strike for six months, the workers have just won the battle. They have negotiated an increase of 30 euros of per day, got rid of overtime and their union representative, Constantin Costa-Gavras, who has just been chosen in this leading role, announced the good news. "Leaving the factory, they must express their joy, throw their caps in the air, kiss, scream with happiness, run," exclaims Jane Fonda! "It's a beautiful day and you have won! You, the Spaniards," she says, addressing herself to Rossy de Palma and companion. "You go out first and you express your joy in a very physical way!" "But do we look at the camera or do we ignore it?" asks this favorite actress of Almódovar. "Ignore it, of course, it's a film," explains the American, before worrying about the role of the dog: "Is there a communist dog?" In front of a large crowd of hundreds, patiently waiting for hours behind the gates protecting the historic filming location, the "actors" run out in a joyous chaos. The major personalities come out of the Hangar du Premier-Film, following the instructions of the energetic director, namely Régis Wargnier, Anne Le Ny, Tahar Rahim, Anne Consigny, Jean-Loup Dabadie, Guillaume Jouhet of OCS, Karole Rocher, Jean Becker, judo-ka Thierry Rey, Radu Mihaileanu, Anaïs Demoustier, Suzanne Clément, Gianluca Farinelli, director of the Bologna Film Library and Catherine, a good friend of Jane's…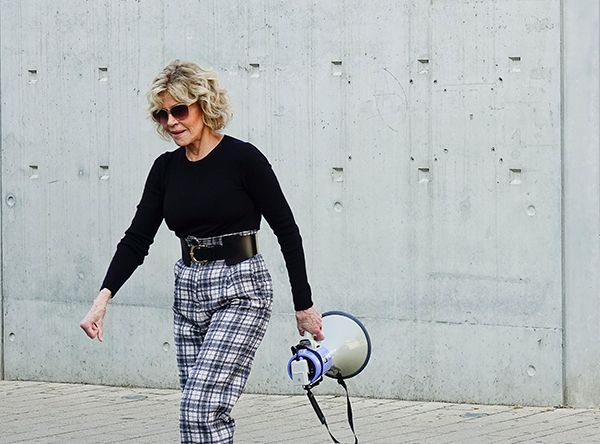 Copyright Institut Lumière / Sandrine Thesillat - Jean-Luc Mège photography
After viewing the rushes on the spot, everyone is satisfied. On the other hand, they need to put another version on the reel, and Danièle Thompson takes charge. The director of La Bûche (Season's Beatings) wants only one star in her film: Jane Fonda. The actress and Rossy de Palma, obviously getting along famously, go for it in one take, displaying a kind of rebellious, communicative fervor. After Wong Kar-wai last year, Catherine Deneuve in 2016, Martin Scorsese in 2015, Pedro Almodóvar or Jerry Schatzberg, Jane Fonda has risen to the challenge and succeeded hands down, with her fist in the air!

Charlotte Pavard

Pierre William Glenn & Jane Fonda

Institut Lumière - Copyright Institut Lumière / Anne-Laure du Chattel - Jean-Luc Mège Photography 2018

Jane Fonda

Institut Lumière - Copyright Institut Lumière / Jacques Croizer

Jane Fonda

Institut Lumière - Copyright Institut Lumière / Sandrine Thésillat - Jean-Luc Mège Photography 2018

Jane Fonda

Institut Lumière - Copyright Institut Lumière / Sandrine Thésillat - Jean-Luc Mège Photography 2018

Institut Lumière - Copyright Institut Lumière / Anne-Laure du Chattel - Jean-Luc Mège Photography 2018

Rossy de Palma

Institut Lumière - Copyright Institut Lumière / Léa Rener

Pierre William Glenn

Institut Lumière - Copyright Institut Lumière / Romane Derbelen - Jean-Luc Mège Photography 2018

Rossy de Palma et Jane Fonda

Institut Lumière - Copyright Institut Lumière / Léa Rener

Jane Fonda & Rossy de Palma

Institut Lumière - Copyright Institut Lumière / Léa Rener

Institut Lumière - Copyright Institut Lumière / Romane Derbelen - Jean-Luc Mège Photography 2018

Jane Fonda & Rossy de Palma

Institut Lumière - Copyright Institut Lumière / Sabine Perrin - Jean-Luc Mège Photography 2018

Institut Lumière - Copyright Institut Lumière / Sandrine Thésillat - Jean-Luc Mège Photography 2018

Institut Lumière - Copyright Institut Lumière / Sandrine Thésillat - Jean-Luc Mège Photography 2018

Équipe du tournage des Sorties d'usine

Institut Lumière - Copyright Institut Lumière / Sandrine Thésillat - Jean-Luc Mège Photography 2018