A Fonda tornado in Lyon

---
POSTED ON OCTOBER 20, 2018

---
After two intense days on Wednesday and Thursday, my Lumière schedule was a bit lighter this Friday. Replacing Nicolas Seydoux at the last moment (a rather daunting task), I introduced Strangers in the House by Henri Decoin, which I had discovered last Sunday in a superbly restored print, thanks to Lumière (and Gaumont, the restorers, hence the planned presentation by Seydoux)! The great theater of the Institut was full (a normal Lumière occurrence) of lucky viewers, who would (re)discover this dark masterpiece made in 1942, a reflection of the psychological climate of France under the occupation: dark, wet and muddy. During my introduction, I almost let out a spoiler about the end of the film, but fortunately, the vigilant public prevented me from saying too much. So goes the passion of cinema; when we love a movie, it's hard to stop talking about it.

I continued at the Bellecour Lumière, with the introduction of Otto Preminger's Advise & Consent. This cinema was also sold-out, but smaller than the Institut's. Warmly greeted by the theater director, who told me he strongly regretted my departure from the Inrocks (which really touched me), I savored the happiness of presenting another masterpiece. Advise & Consent is a jewel of "Mac-Mahonians," critics who had elected Fritz Lang, Raoul Walsh, Joseph Losey and Otto Preminger as their "four aces." Common points of these great masters: a refined style, a subtle virtuosity, a kind of equivalent to that clear line sketched by Hergé, a restraint that is also found in the painting of human relations, rejecting all pathos and sentimentalism. Otherwise said, the control of style is on par with the control of affects. Advise & Consent has all these characteristics, helped by the fact that the film plunges into an environment devoid of feeling: politics at the highest level. The pitch: a senator is about to be appointed Secretary of State, which triggers a complex web of intrigue, backroom deals, rivalries, blows... a lucid saga a bit disenchanted with how American democracy functions. In short, this film shows us the inside story of a cabinet reshuffle, which proves its permanent relevance! Henry Fonda is magnificent as an honest servant of his country and democracy, and Jane was right to choose this film for the tribute to her father.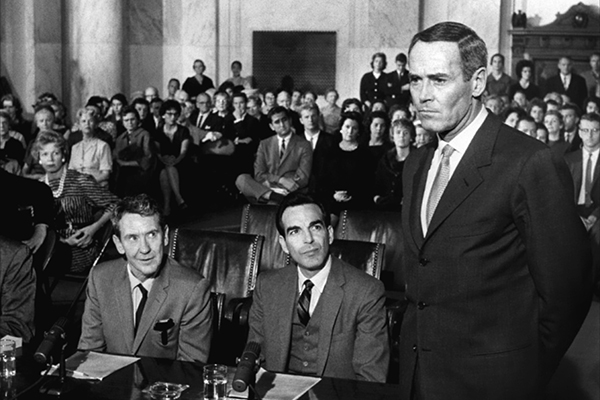 Film Advise & Consent

Jane Fonda. The time has come to bring her up, since Friday evening was the ceremony presenting her with the Lumière Award 2018. The evening was at once playful, dynamic and feminist, led by master Thierry Frémaux, who excels in this kind of exercise. In addition to the beautiful clips summarizing 10 editions of the festival as well as presenting the 2018 program, Vincent Delerm delighted the amphitheater by melding with Edith Piaf (chosen by Jane) with delicacy and charming, witty humor; Nolwenn Leroy succeeded superbly, singing the Quest by the great Brel (another Fonda-based choice); Dominique Blanc read an oh-so-appropriate passage of Simone De Beauvoir's Second Sex (which the author of these lines and probably many men approve of without reservation), although it is regrettable that this text, written in 1949, remains totally relevant in 2018, as Dominique Blanc pointed out. Then our attention was turned to the talented Anaïs Demoustier, Suzanne Clément and Anne Consigny, who each performed a reading of an excerpt from Jane Fonda's autobiography, further proof that the Klute actress is a worthy heir to the battles of de Beauvoir.

An old friend of Jane's, Costa-Gavras, then pronounced the speech in honor of the Lumière Award 2018 laureate, with some difficulties, probably due to the emotion (emotion was part of the beautiful cocktail of the evening), and Jane responded with humor, sending him a small friendly joke. Joy, informality, class and charisma are words that are well suited to Jane Fonda, and she won over the public of the Palais des Congrès through her perspective, her influence and her spontaneous jokes. Jane too is a storm, or rather, a tornado, of femininity and intelligence. Rather than make a big speech like most of the Lumière laureates, she celebrated the gastronomy of Lyon ("We eat super well here!"), and launched into a bawdy French song ("Something Vadim taught me… among other things," she confided): it was just awesome. To conclude this magical evening, all that was left was to sing a giant karaoke in unison, led by Nolwenn. The song, Je ne regrette rien by the great Edith, was perfectly appropriate for the great Jane.

Serge Kaganski